The following packages are currently being offered through partnerships with local businesses and organizations: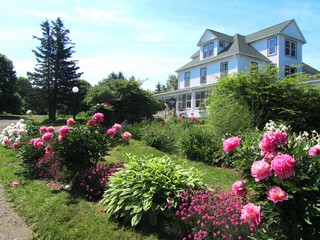 Annapolis Royal Tour--Beautiful flowers, history and great food!
Annapolis Royal, a town with a long history is only twenty minutes from Harbourview Inn.
Start your tour at the beautiful Annapolis Royal Historic Gardens...."a premier Nova Scotia attraction showcasing gardening methods, designs and materials representing more than four hundred years of local history." Explore Fort Anne...a present-day reminder of a time when conflict between Europe's empire builders was acted out on the shores of the Annapolis River." Enjoy a delicious meal at one of the finest restaurants in this area...Restaurant Composť. And complete your day with a candle-light tour of the historic graveyard alongside Fort Anne!
This package includes two nights accommodations for two people in a garden view room, breakfast in the morning, entrance to Annapolis Royal Historic Gardens, dinner for two at Restaurant Compose and candle-light graveyard tour by Fort Anne.
-- Visit us at http://www.theharbourviewinn.com and explore Nova Scotia through http://www.uniquecountryinns.com.
Check us out on Facebook at http://www.facebook.com/TheHarbourviewInn and at Twitter at http://twitter.com/#!/HarbourviewInn
1-877-449-0705 1-902-245-5686